The distinctions between air and ocean freight appear obvious, but importers and exporters must be aware of much more.
Our guide on air freight and ocean freight will help you understand the benefits and drawbacks of each and explain which is better air freight or sea freight. To point you in the right direction for your next cargo.
Difference between air freight and ocean freight
It is critical to understand the difference between air freight and sea freight because they have unique features and cater to different types of needs.
Understanding these differences will enable you to make better decisions. Here are some pointers to help you:
Ocean freight
For heavier and larger cargo, sea freight is a preferable option. When compared to air freight, sea freight has more capacity.
Obviously, it is slower than air freight. Sea freight could take three times as long as air freight.
Customs issues, holdups, and route adjustments may cause additional time delays.
Again, the sort of products being shipped will influence your choice of tow mode.
Air freight
Air shipping is suggested when the shipping cost is less than about 20% of the item's value. However, bear in mind that the weight or volume of the items being transported determines how much the freight will cost.
Air freight should be chosen if you want safer and faster deliveries, as well as better and more secure shipping solutions.
If your shipment requires greater security, air freight is the superior option. Cargo at airports is subjected to more security checks than cargo at seaports.
The sort of products you are shipping also influences your choice of air freight.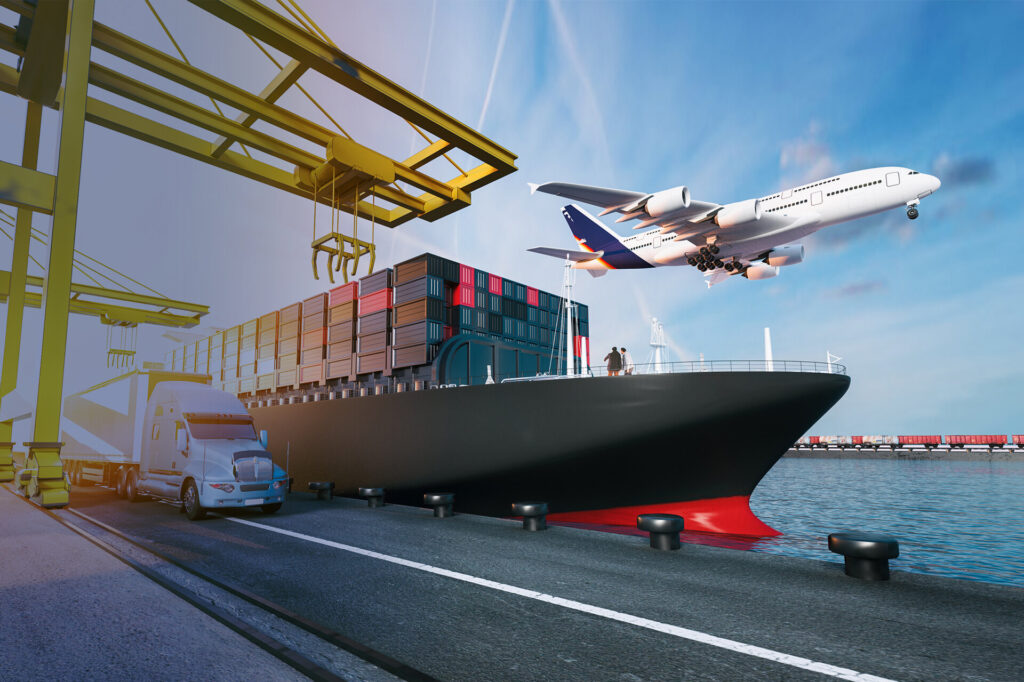 Ocean freight disadvantages
Ocean freight is slow and can take many weeks to deliver your products (depending on the distance).
When transporting tiny amounts of products, ocean freight shipping is much less cost-effective, while tactics such as LCL shipping can help.
Ocean freight delivery necessitates more paperwork and may incur higher fees than other modes of transportation.
Ocean freight shipping is more sensitive to port delays than other types of transportation due to a large number of resources necessary to load and unload a ship.
Air freight disadvantages
High Prices.
Maximum Carrying Capacity Limited.
Unsuitable for some items.
dependent upon the weather.
Sea freight vs air freight cost
Calculating the cost difference between air freight and sea freight is a little more difficult because it is mainly dependent on the cargo being shipped. Air freight is more expensive than sea freight.
The bigger the difference in price between the two options, the lighter your shipment (airplane capacity is typically limited by weight and sea freight capacity by volume).
The greater the weight of your cargo, the less expensive it is to transport by ship.
To calculate the cost difference between shipping via air freight vs. via sea freight, head over to Quote page to get live quotes from logistics providers.
Once you have a better idea of the differences, consider the other factors discussed in this guide and decide what mode is best for your shipment.
Why sea freight is cheaper than air freight
There is more capacity on cargo ships than there is cargo to carry, which is one of the reasons sea freight is less expensive than air freight. As a result, there is more supply than demand for marine cargo capacity, which lowers prices.

Which is better air freight or ocean freight?
Without a doubt, air freight is quicker and far better than ocean transportation. Sometimes it takes weeks for ocean cargo to arrive. Within a day or two, air freight can reach its destination. Although ships are becoming faster and ocean transport routes are being optimized, air freight is still faster.
Still can't decide which one to choose?
Our expert team will explore the best solution for your products with M.A. Anderson, one of the top forwarders in the freight sector.
Contact us with your request, and we'll get back to you right away with pricing. We handle all the paperwork and shipping papers so you don't have to.
Our ocean freight service is available FROM ANYWHERE TO ANYWHERE "GLOBAL REACH" with the best price and estimated time.