One of the best ways to increase profits and reduce Ocean freight costs is to consider LCL sea freight, grouping various shipments together in one container.
However, there are other factors to consider when choosing LCL containers which we will cover below.
Learn everything there is to know about LCL shipping if you have smaller freight shipments.
What is LCL sea freight?
Sea freight LCL meaning refers to loads that are "less than a container load" or a shipment that does not fill a full container, in the context of sea freight.
Shipping via LCL may be more expensive than FCL depending on the route, destination, and requirements.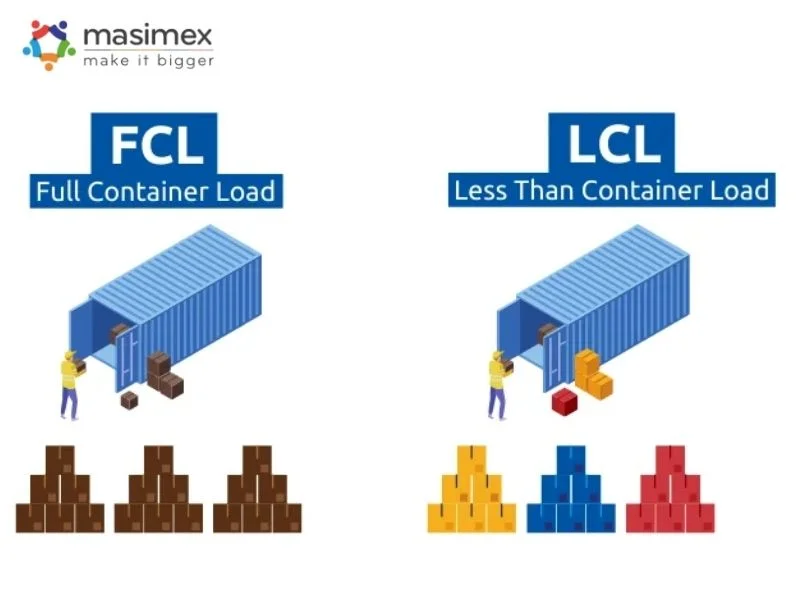 Benefits of using LCL
Less than Container Load (LCL) is a flexible and economical option for moving smaller, less urgent shipments between major ports in the world.
Whatever the size of the item, our adaptable shipping technique can handle it.
The benefit is that you don't have to wait for your items to fill a whole container; instead, you may send your goods on their way as soon as they are prepared.
Keep in mind that you cannot select the other types of goods you share the container with when shipping LCL.
Some advantages of using Less than Container Load
With LCL shipping, you only pay for the volume you use, as opposed to a flat fee like with FCL.
Reduced costs for inventory warehousing result from shipping fewer items more frequently.
If you have some more time to wait for your shipment, LCL is less expensive than air freight, allowing you to save on shipping costs.
In situations where container capacity is constrained, such as during the busiest shipping season or during times of high shipping volume, LCL can be quicker and easier to locate than FCL.
Disadvantages of LCL
The process of loading and unloading LCL shipments from containers extends the route by a few days.
LCL shipping is often twice as expensive per cubic meter as FCL shipments.
Your products can be delayed alongside other shipments due to customs issues.
LCL products are handled more often, increasing the possibility of loss or damage.
How Does LCL Shipment Work?
A container is shared by several shippers in an LCL shipment.
Since the cost of shipping a full container is split, an LCL shipment is typically less expensive when there is not enough cargo to fill the entire container.
An LCL shipment will have a greater CBM cost than an FCL shipment, but the overall cost is frequently lower.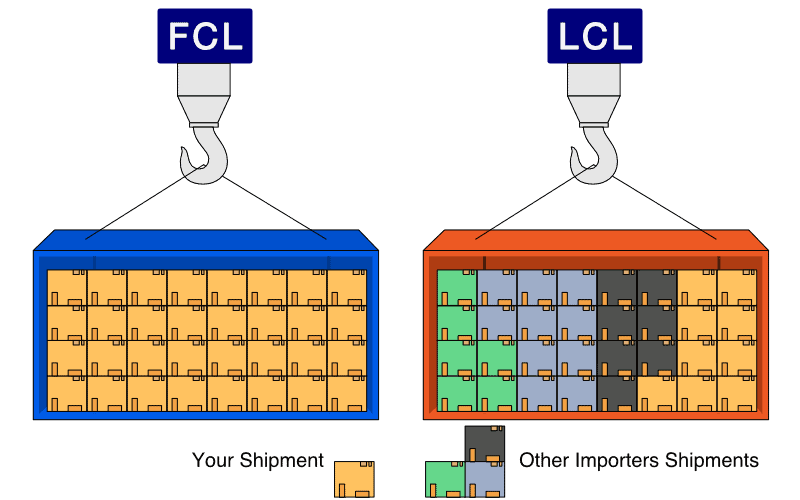 LCL Shipment cost and rates
An LCL cargo's price is determined by how much actual volume, typically a minimum of 1 CBM, the shipment actually takes up in a shared shipping container.
The charges will be calculated as 1 CBM if the total volume of the cargo is less than the minimum.
Having said that, you will still be responsible for paying the price for the minimum volume even if your goods require far less room than the minimum requirement.
Rates
Depending on the route, an ocean freight shipment's total cost per CBM could range from $25 to $140. Before setting up the cargo, to get quoted rates M A A freight forwarder gives accurate rates because LCL freight costs typically fluctuate monthly.
Here are other factors that affect charges and rates of LCL
Pickup: The price for collecting your shipment from the factory or warehouse.
Origin: At a Container Freight Station, or CFS, LCL shipments must be loaded onto containers with other shipments, or consolidated. This is also known as "container stuffing."
The cost of the maritime journey: The cost may not be the highest. Charges at the CFS can occasionally be very high because they demand a lot of equipment and labor.
Destination: LCL shipments must halt at a CFS for deconsolidation, or unstuffing when they arrive in the destination nation.
Delivery: The price of transporting your products by truck to the final warehouse.
What is the difference between LCL and FCL?
"Full container load" is referred to as FCL. On an FCL arrangement, the consigned shipment uses the entire container and is not shared with other clients.
Multiple consignments share space in a single container with an LCL, or less than container load, shipment.
While LCL only covers the space the shipment takes up in a single container, FCL requires the customer to cover the cost of the entire container space.
How long does LCL shipping take?
Depending on your origin and destination, sea shipment typically takes 6 to 10 weeks. Due to consolidation and deconsolidation, LCL typically takes a little bit longer than FCL.
When to choose LCL?
When volume is under 13m3.
When you need to make last-minute shipping reservations during the busiest shipping season.
When the cargo amount is too high for a full container and too low for two containers to be filled.
When the shipment is not urgent.
How to ship LCL Cargo
If you choose to book your LCL cargo with M A Anderson, we'll take care of time-consuming paperwork:
We offer insurance and customs solutions when you book your shipments.
You'll be able to track your LCL shipment.
Guaranteed to get the best rate today.