Throughout history, the seas have been fundamental to people across the world as a means of transportation. The two most common international transport methods are Sea freight and air freight.
When you need to ship automobiles, heavy machinery, military equipment, helicopters, cranes, and stuff like these, you must take extra advanced measurements so that these types of cargo should reach their destinations with extra care and no damage.
Therefore, we use Sea Freight, which is not just an easy way to pack any type of cargo but is also much safer than air transportation.
Are you looking to grow your business with sea freight? Then you're in the right place; our services are from customs clearance brokerage to warehousing and logistics.
What is the meaning of sea freight?
Shipping by sea freight is an economical way to send products across the seas. It's also an excellent option for businesses that need to move large quantities of goods quickly.
Ocean freight is dominant in world trade, accounting for around 90% of all transportation occurring globally.
Most items are allowed, while others are under restrictions.
How much does sea freight cost?
There are basic freight charges for moving containers from one location to another worldwide.
Quotes are the estimated summary of charges during the entire transportation process, including pick-ups, trucking, warehousing, and other considerations.
There are different ways to ship cargo by sea freight. You can use any type of service that fit the nature of your shipment based on size and weight, you can choose between Full Container Load (FCL), Less Container Load (LCL), Break Bulk, and, Roll-on Roll-out (RORO).
Tailor-made solution for your cargo shipping.
How do we ship your cargo by sea freight?
Depending on your choice of Incoterms M A Anderson team arrange the packing of your cargo and stuff into the container, then transport the shipment to the seaport with complete export/ Import customs clearance service then handover the container to shipping line CFS/ CY to ship overseas to your destination.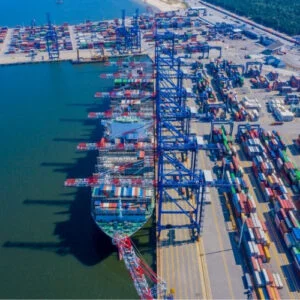 Why is sea freight better than airfreight?
Sea freight is six times less costly than air freight. We calculate Ex-works and freight at a more affordable rate than airfreight, keeping the costs down in different ways, making it suitable for most types of businesses.
Why is sea freight important for your business?
M A Anderson provides sea freight service with efficient pricing options based on your cargo and required time of delivery at the destination port. This maximizes the value of your supply chain savings providing a competitive edge over your competitors; you can now sell your products to final consumers with the best price and higher profit margin.
Sea freight Service provider in Kuwait and UAE
M A Anderson's vision is global as we strive to connect the globe's logistics from Kuwait and the UAE.
Sea freight service in the UAE and Kuwait
MAA offers different sea services:
To learn more about the different types of services, visit the MAA service page.
How do I book sea freight?
Quoting and booking a sea freight with M A Anderson is super easy; the entire booking process takes approximately 5 minutes.
Go to sea freight service to get started.
Want a Sea freight online quote?
If you want to calculate your cargo cost, use the form below:
Get your sea freight service quote
Our sea freight service is available FROM ANYWHERE TO ANYWHERE "GLOBAL REACH" with the best price and estimated time.
Why has sea freight increased in 2021?
Trade imbalances are the primary cause of significant increases in sea freight rates. When the COVID-19 erupted, the world suffered from halted production, and countries all over the world underwent lockdowns and then reopened at different times. It resulted in a mismatch between supply and demand for goods.
When will sea freight prices go down?
We expect Freight rates to be corrected and reduced by 30-40 percent in 2023. The fact that freight rates are currently stable is good news, particularly for importers. However, it is doubtful that they will return to their 2019 levels.