As your new business grows, it's important to understand the world's largest trade and how ocean freight is the most shared logistics in different industries, from cars to food supplies.
Here you'll learn the basics of ocean freight shipping, including carriers, how it's calculated, different types of terms, and more.
Let's get started.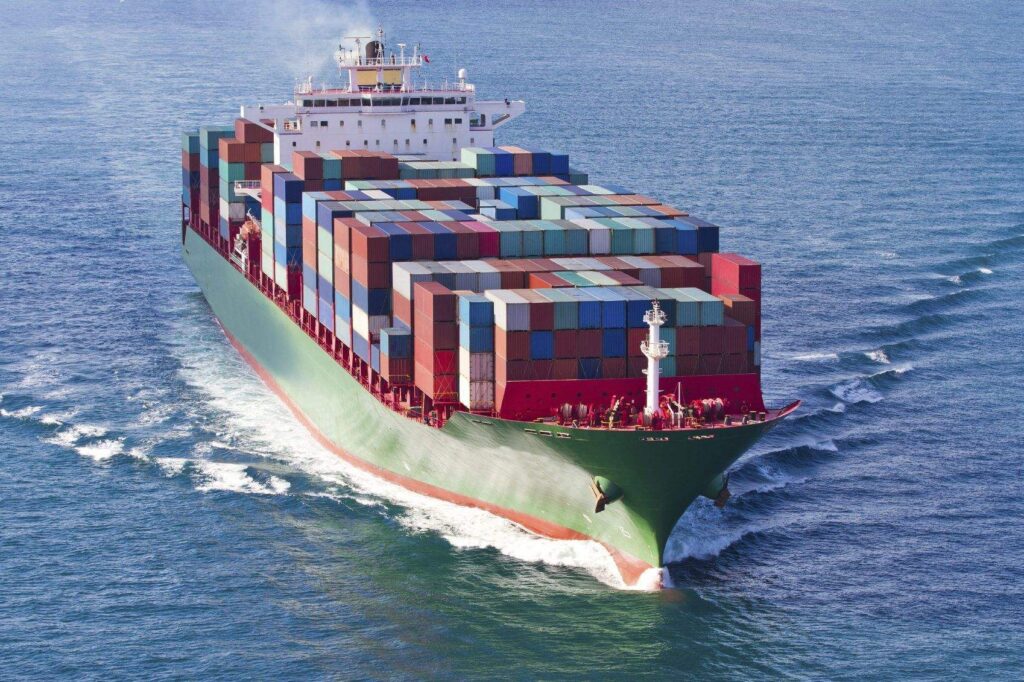 What is the meaning of ocean freight?
Ocean freight is the largest world trade by 90% and is carried by sea.
Sea freight, or ocean freight, is a method of transporting large loads of goods (100 kg) by the sea. 
Putting cargo in huge holders that are stacked onto vessels.
You can ship all items, but some restrictions may apply.
Different Types of ocean freight
Ocean freight consists of different types of transportation used depending on your cargo weight.
Containers
Container ships are built to transport cargo in standard ISO containers.
Container ships range in length from 80 to 400 metres, in deadweight tonnage from 8 to 20 thousand tonnes, and in capacity from 250 to 18 thousand containers..
Bulk carriers
A bulk carrier is a ship that transports unpacked bulk cargo such as coal, building materials, grains, sand, crushed stone, and ore.
Tankers
Another type of vessel is commonly used in sea freight transportation.
They transport liquid foods such as vegetable oil, oil, petroleum products, and natural gas.
Tankers transport nearly half of all seaborne freight.
RORO ships
Cargo vessels that load horizontally through stern ramps wheelbase vehicles such as trucks and passenger cars, r/r wagons, and so on.
Cars can be driven directly onto the ship or loaded using port cranes with a lifting capacity of up to 1000 Kg.
Reefer ships
Equipped with refrigerators so cargo won't get spoiled during transportations, such as fish, dairy products or meat.
It's one of the most used transportation of ocean freight.
Types of sea freight shipping
When you want to ship your cargo you don't have to use all the space in the container or depending on which type of transportation you use.
FCL
Stands for Full Container Load is an individual cargo load in a single large container.
LCL
Stands for Less Than Container Load meaning different loads are in one holder and separated at the final harbor to deliver to different areas.
Dry Bulk
appropriate for cargo that remains in a ship's hold instead of in a holder. This service is common when moving bigger things or crude materials such as timber and metals.
Break Bulk
Cargo shippers use a ship's hold to carry certain goods, such as grain, coal, and ore that are usually not shipped in intermodal containers (different types of modes of transportation).
Roll-On-Roll-Off (RORO)
Trucks drive onto the ship, stop, and stay there for the length of the trip. At the final harbor, they take off the dispatch and continue to their delivery point.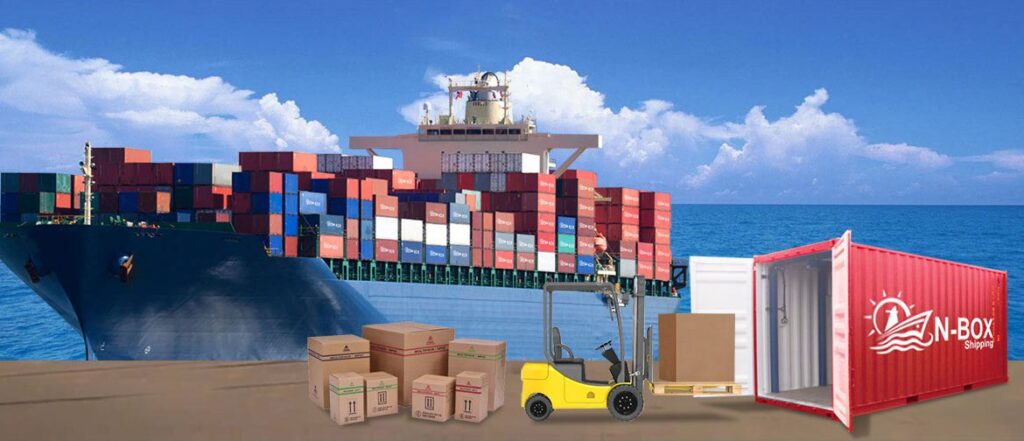 How Ocean Freight Works
Ocean cargo transportation methods can be complicated.
That's why it's important to contact an experienced international freight forwarder who can oversee the supply chain on your behalf.
Freight forwarders have a list of confirmed suppliers and can select the leading shipping company for your needs.
What's next?
After you accept the sea carrier's quote, they collect your shipment and take it to the harbour where it goes through customs.
The carrier loads your cargo into an FCL or LCL holder and places it onto the transport.
The shipping specialist organises for your goods to pass through customs at the destination harbour, and after that, they send them to the recipient.
What are the benefits and disadvantages of shipping sea freight?
There are some pros and cons to using ocean freight, even if it's the best method to ship your goods.
Pros:
One of the main advantages of Ocean freight shipping is that it is the most cost-effective option for shipping bulk goods a long distance. 
Ocean freight shipping is the only option for intercontinental shipping other than air freight, which is often extremely expensive.
An efficient option for shipping large, bulky goods that are difficult to transport via other methods. 
Ocean freight shipping can transport some types of goods, such as trucks, that can't be shipped via air transport.
Cons:
Ocean freight is slow and it can take up to several weeks to ship your goods (depending on the distance).
Ocean freight shipping is much less cost-effective when shipping small quantities of goods, although using techniques like LCL shipping can help.
Ocean freight shipping requires going through a lot of paperwork and may involve more fees than other types of shipping.
Because of the massive amount of resources required to load and unload a ship, ocean freight shipping is more vulnerable to port delays than other modes of transportation.
Why does shipping by sea take so long?
Now that you learned about the pros and cons of ocean freight, let's talk about why it takes so long to ship via ocean freight.
Shipping LCL takes more time since pallets from numerous places have to be gathered to fill the holder and get it on the ship.
FCL merchandise is as of now, stacked into the holder and prepared to be stacked onto the vessel.
Sometimes, China has crackdowns at its ports, which can delay takeoff by up to a week.
How fast is freight shipping?
Travel times for ocean cargo depend a lot on the origin and destination of the cargo. It can take from 25 to 45 days.
Some factors can delay Sea freight transit time
The origin and the final destination.
Sea freight transit time.
Type of cargo.
Is it LCL or FCL?
How are ocean freight rates calculated?
Ocean freight charges are calculated based on the CBM.
The CBM factor used for ocean freight is 1 CBM = 1000 kg
CBM (cubic meter) is a measurement of volume one meter wide by one meter long by one meter high. CBM is used to calculate the chargeable weight.
How are sea freight charges calculated?
Divide the shipment's weight (in pounds) by the total cubic feet.
The density is the end result (in pounds per cubic foot). When dealing with multiple pallets, add the weight of each pallet before dividing by the total cubic feet of the shipment.
Fractions must be rounded to the nearest full cubic foot.
How do I ship ocean freight?
In sea cargo shipping, goods are loaded in shipping holders; the freight forwarder books the space or holder with the shipping specialist, and cargo is trucked to the shipping vessel at the harbor of origin and dispatched abroad to the merchant at the port of destination.
How do you load a sea freight container?
In ocean freight shipping, goods are packed in shipping containers, the freight forwarder books the space or container with the shipping agent, cargo is trucked to the shipping vessel at the port of origin and shipped overseas to the importer at the port of destination.
What is included in ocean freight charges?
Ocean freight charges normally apply to the "carriage" process but can also include the pre- and on-carriage stages. The pre-carriage process refers to any inland movement that takes place prior to loading up a shipping container at a port. This can occur at the same location as the port or somewhere close.
Ocean freight vs air freight
Air freight is far faster than ocean shipping. Ocean shipments can take several weeks to arrive. Air freight can reach its destination in a matter of days or weeks. While ships are becoming faster and ocean shipping routes are constantly being optimized, nothing beats the speed of air freight.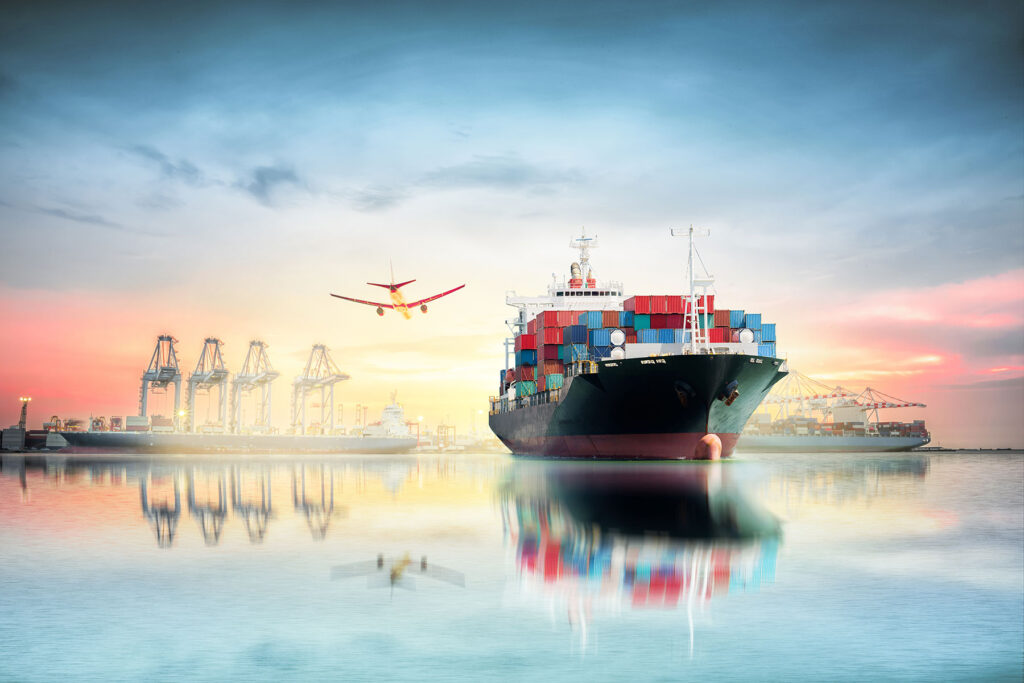 How do I book ocean freight?
Quoting and booking an ocean freight with M A Anderson is super easy, The entire booking process takes approximately 5 minutes.
Go to ocean freight service to get started.
Our ocean freight service is available in Kuwait and the UAE to more than 150 countries for a low price and at the best estimated time.
[contact-form-7 id="1789″ title="GET QUOTE"]
Some common questions about ocean freight
Is it cheaper to ship by sea or air?
Shipping via the ocean is by far the cheapest option to ship large cargoes and heavy shipments. However, as shipment sizes decrease, so does the margin between air and ocean prices.
How is transit time calculated for shipping?
Only about 350 miles can be driven on the first day, including pick-up, delivery, and border clearance. The math is straightforward. Simply subtract 350 miles for the first day, divide the result by 550, and add the result back in. This will give you the transit time for a truck load.